Terrific Talks at Vancouver Nanomedicine Day 2017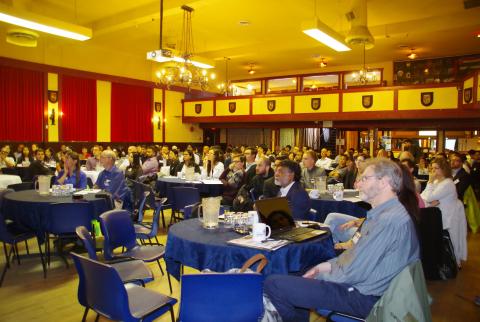 Our Vancouver Nanomedicine Day 2017 event was a roaring success, bringing together an audience of 230 individuals from various backgrounds in science, medicine, and engineering with 12 speakers that are currently working in nanomedicine fields. Topics ranged from lipid nanoparticle applications for cancer treatment and gene editing to magnetic particle imaging and the complexity of delivering nanoparticles that can penetrate solid tumours. The goal of the event was to establish a collaborative network between researchers, postdoctoral fellows, life science companies and start-up biotechnology companies, while also providing training opportunities for students in related fields.
For more information, check here.
Our Lab is Part of the ISOSIM Program

The Hafeli lab is part of the Isotopes for Science and Medicine (IsoSiM) CREATE (NSERC Collaborative Research and Training Experience Program) program which has been developed in response to the growing importance of applications of nuclear isotopes in a broad range of fields from environmental science, preclinical medical research, and characterization of new materials, to investigations of the foundations of the universe. It provides training in the production, preparation, and application of nuclear isotopes for science and medicine developing the unique skills required for employment in isotope-related fields, development of new radioisotopes, and promotion of innovative new isotope applications in environmental science and medicine. IsoSiM encourages student mobility through a student placement program that builds on strong existing collaboration between UBC/TRIUMF and partners in Germany, as well as it provides the opportunity of having an internship in one of the industrial partners.
Check out the detailed program offers on the ISOSIM website http://isosim.ubc.ca/. Also, ISOSIM organizes regular talks, currently held at TRIUMF.
Research Interests
* Preparation of growth factor-releasing magnetic microspheres and their testing in vivo in a diabetic leg ulcer model.
* Ongoing laboratory research and testing of different radioactive and magnetic microspheres for tumor brachytherapy.
* Synthesis of poly(L-lactic acid) derivatives to bind the radioisotopes In-111, Y-90 and Re-186/188 more quickly and with higher affinity.
* Characterization of the magnetic forces necessary for in vivo movement of magnetic microspheres.
* Toxicological tests of different particles in vitro and in vivo.
* Preparation of monosized microspheres with the help of microfluidics and nanotechnology.
* Development of novel PET and SPECT-based blood pool imaging agents.
* Synthesis of radioiodinated lipids for the quantitative investigation and imaging of lymph-going lipophilic drug delivery systems.
Dynamic Pictures from the Lab
One way to make biodegradable microspheres is to dissolve the polymer material in chloroform and inject it into a water phase. The chloroform then diffuses into the water phase (solvent extraction), while the polymers are insoluble in water and make up perfect microspheres. In these movies you see how we use a microfluidic chip to make droplets, each of which turns then into a microsphere.
Magnetic Targeting
A particularly interesting area of research for our lab is making magnetic drug delivery happen. For more information, please check out http://www.magneticmicrosphere.com.